Black Mud
Traditional technique
from the state of Oaxaca
San Bartolo Coyotepec, Oaxaca
Vixi Creation
Black Mud
In Vixi México, we are constantly looking for new ways to add the value of specialized design to craftmanship traditional art. That's why we joined with Adelina Pedro, one of the most acknowledged barro negro artists in Oaxaca.
We´ve created a bond between Industrial Design and Mexican culture as consequence of partnering directly with one of the few families that have been following this traditional process since pre-Columbian times.
The material posses an iconic color which is given by the mud cooking process. During the production, the pieces are burned inside an oven with two ends. Both ends which are closed reduce the oxygen inside the oven. This way the smoke gets impregnated to the clay creating this distinctive color. 
Later, the pieces are burnished, creating the exact glossiness we wanted since the development of the project.
We've reached amazing results with barro negro. Having the goal of supporting local Mexican artisans, we created a new and better process that allows us to develop our ideas using this distinctive material. We have reached a unique combination between "avant -garde" design and Mexican traditional culture.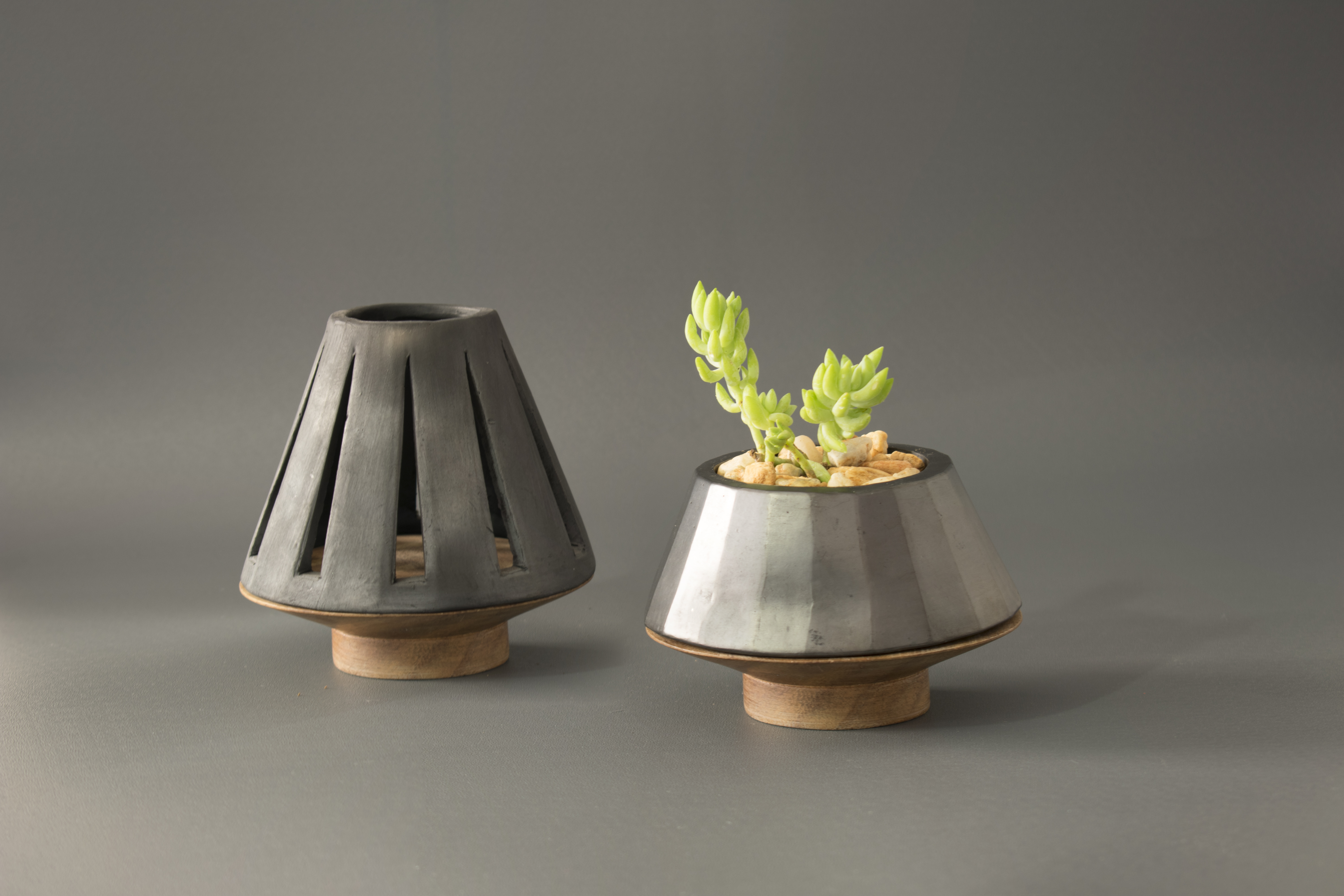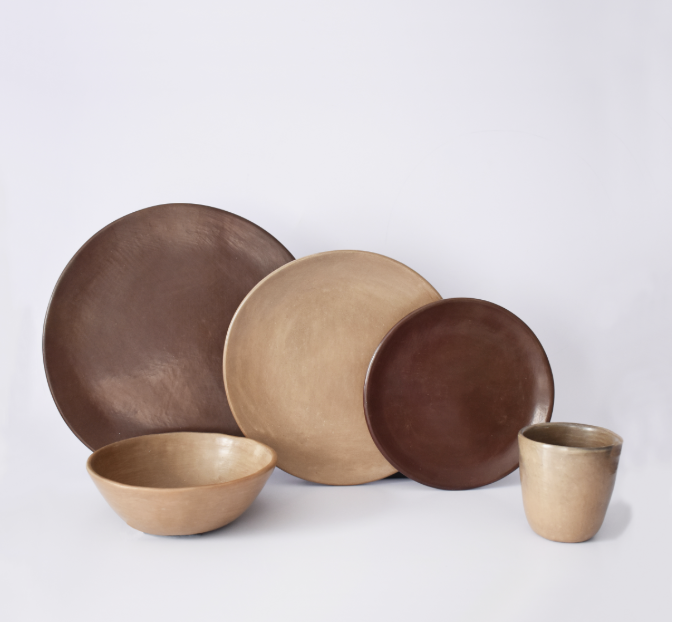 Poblano´s Clay
Traditional technique from the state of Puebla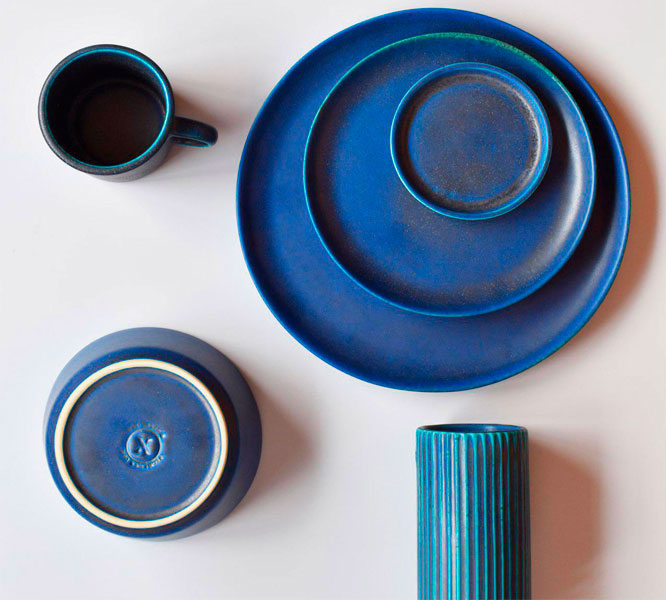 <style><!-- [et_pb_line_break_holder] -->.image-hover-layout .et_pb_blurb_content {<!-- [et_pb_line_break_holder] --> max-width: 100%;<!-- [et_pb_line_break_holder] -->}<!-- [et_pb_line_break_holder] --><!-- [et_pb_line_break_holder] -->.image-hover-layout .et_pb_blurb_content img {<!-- [et_pb_line_break_holder] --> width: 100%;<!-- [et_pb_line_break_holder] -->}<!-- [et_pb_line_break_holder] --><!-- [et_pb_line_break_holder] -->.image-hover-layout .et_pb_column {<!-- [et_pb_line_break_holder] --> overflow: hidden;<!-- [et_pb_line_break_holder] --> position: relative;<!-- [et_pb_line_break_holder] -->}<!-- [et_pb_line_break_holder] --><!-- [et_pb_line_break_holder] -->.image-hover-layout .et_pb_column img {<!-- [et_pb_line_break_holder] --> -webkit-transition: all 0.5s ease-in-out;<!-- [et_pb_line_break_holder] --> -moz-transition: all 0.5s ease-in-out;<!-- [et_pb_line_break_holder] --> transition: all 0.5s ease-in-out;<!-- [et_pb_line_break_holder] --> display: block;<!-- [et_pb_line_break_holder] -->}<!-- [et_pb_line_break_holder] --><!-- [et_pb_line_break_holder] -->.image-hover-layout .et_pb_column:hover img {<!-- [et_pb_line_break_holder] --> transform: scale(1.1);<!-- [et_pb_line_break_holder] -->}<!-- [et_pb_line_break_holder] --><!-- [et_pb_line_break_holder] -->.image-hover-layout .et_pb_column:hover .et_pb_main_blurb_image:after {<!-- [et_pb_line_break_holder] --> position: absolute;<!-- [et_pb_line_break_holder] --> top: 0;<!-- [et_pb_line_break_holder] --> left: 0;<!-- [et_pb_line_break_holder] --> width: 100%;<!-- [et_pb_line_break_holder] --> height: 100%;<!-- [et_pb_line_break_holder] --> background: rgba(0, 0, 0, 0.4);<!-- [et_pb_line_break_holder] --> content: '';<!-- [et_pb_line_break_holder] --> pointer-events: none;<!-- [et_pb_line_break_holder] -->}<!-- [et_pb_line_break_holder] --><!-- [et_pb_line_break_holder] -->.image-hover-layout .et_pb_main_blurb_image {<!-- [et_pb_line_break_holder] --> margin: 0;<!-- [et_pb_line_break_holder] -->}<!-- [et_pb_line_break_holder] --><!-- [et_pb_line_break_holder] -->.image-hover-layout .et_pb_column .et_pb_blurb_content:before {<!-- [et_pb_line_break_holder] --> top: 50px;<!-- [et_pb_line_break_holder] --> right: 30px;<!-- [et_pb_line_break_holder] --> bottom: 50px;<!-- [et_pb_line_break_holder] --> left: 30px;<!-- [et_pb_line_break_holder] --> -webkit-transform: scale(0, 1);<!-- [et_pb_line_break_holder] --> transform: scale(0, 1);<!-- [et_pb_line_break_holder] --> -webkit-transform-origin: 0 0;<!-- [et_pb_line_break_holder] --> transform-origin: 0 0;<!-- [et_pb_line_break_holder] --> position: absolute;<!-- [et_pb_line_break_holder] --> content: '';<!-- [et_pb_line_break_holder] --> opacity: 0;<!-- [et_pb_line_break_holder] --> -webkit-transition: opacity 0.35s, -webkit-transform 0.35s;<!-- [et_pb_line_break_holder] --> transition: opacity 0.35s, transform 0.35s;<!-- [et_pb_line_break_holder] --> z-index: 1;<!-- [et_pb_line_break_holder] --> pointer-events: none;<!-- [et_pb_line_break_holder] -->}<!-- [et_pb_line_break_holder] --><!-- [et_pb_line_break_holder] -->.image-hover-layout .et_pb_column .et_pb_blurb_content:after {<!-- [et_pb_line_break_holder] --> top: 30px;<!-- [et_pb_line_break_holder] --> right: 50px;<!-- [et_pb_line_break_holder] --> bottom: 30px;<!-- [et_pb_line_break_holder] --> left: 50px;<!-- [et_pb_line_break_holder] --> -webkit-transform: scale(1, 0);<!-- [et_pb_line_break_holder] --> transform: scale(1, 0);<!-- [et_pb_line_break_holder] --> -webkit-transform-origin: 100% 0;<!-- [et_pb_line_break_holder] --> transform-origin: 100% 0;<!-- [et_pb_line_break_holder] --> position: absolute;<!-- [et_pb_line_break_holder] --> content: '';<!-- [et_pb_line_break_holder] --> opacity: 0;<!-- [et_pb_line_break_holder] --> -webkit-transition: opacity 0.35s, -webkit-transform 0.35s;<!-- [et_pb_line_break_holder] --> transition: opacity 0.35s, transform 0.35s;<!-- [et_pb_line_break_holder] --> pointer-events: none;<!-- [et_pb_line_break_holder] -->}<!-- [et_pb_line_break_holder] --><!-- [et_pb_line_break_holder] -->.image-hover-layout .et_pb_column:hover .et_pb_blurb_content:before, .image-hover-layout .et_pb_column:hover .et_pb_blurb_content:after {<!-- [et_pb_line_break_holder] --> -webkit-transition-delay: 0.15s;<!-- [et_pb_line_break_holder] --> transition-delay: 0.15s;<!-- [et_pb_line_break_holder] --> opacity: 1;<!-- [et_pb_line_break_holder] --> -webkit-transform: scale(1);<!-- [et_pb_line_break_holder] --> transform: scale(1);<!-- [et_pb_line_break_holder] -->}<!-- [et_pb_line_break_holder] --><!-- [et_pb_line_break_holder] -->.image-hover-layout .et_pb_column .et_pb_blurb_container {<!-- [et_pb_line_break_holder] --> opacity: 0;<!-- [et_pb_line_break_holder] --> color: #fff;<!-- [et_pb_line_break_holder] --> position: absolute;<!-- [et_pb_line_break_holder] --> top: 40%; /* Adjust this if the text is in the wrong position */<!-- [et_pb_line_break_holder] --> width: 100%;<!-- [et_pb_line_break_holder] --> text-align: center;<!-- [et_pb_line_break_holder] --> -webkit-transition: all 0.5s ease-in-out;<!-- [et_pb_line_break_holder] --> -moz-transition: all 0.5s ease-in-out;<!-- [et_pb_line_break_holder] --> transition: all 0.5s ease-in-out;<!-- [et_pb_line_break_holder] --> margin: 0;<!-- [et_pb_line_break_holder] --> padding: 0 55px;<!-- [et_pb_line_break_holder] --> pointer-events: none;<!-- [et_pb_line_break_holder] --> line-height: 1em !important;<!-- [et_pb_line_break_holder] -->}<!-- [et_pb_line_break_holder] --><!-- [et_pb_line_break_holder] -->.image-hover-layout .et_pb_column:hover .et_pb_blurb_container {<!-- [et_pb_line_break_holder] --> opacity: 1;<!-- [et_pb_line_break_holder] --> position: absolute;<!-- [et_pb_line_break_holder] --> top: 45%;<!-- [et_pb_line_break_holder] --> width: 100%;<!-- [et_pb_line_break_holder] --> text-align: center;<!-- [et_pb_line_break_holder] --> color: #fff;<!-- [et_pb_line_break_holder] --> line-height: 1em !important;<!-- [et_pb_line_break_holder] -->}<!-- [et_pb_line_break_holder] --><!-- [et_pb_line_break_holder] -->.image-hover-layout.show-title h4 {<!-- [et_pb_line_break_holder] --> background: #fff;<!-- [et_pb_line_break_holder] --> padding: 10px!important;<!-- [et_pb_line_break_holder] --> display: inline-block;<!-- [et_pb_line_break_holder] --> margin-bottom: 10px;<!-- [et_pb_line_break_holder] --> color: #333 !important;<!-- [et_pb_line_break_holder] -->}<!-- [et_pb_line_break_holder] --><!-- [et_pb_line_break_holder] -->.image-hover-layout.show-title .et_pb_blurb_container {<!-- [et_pb_line_break_holder] --> opacity: 1;<!-- [et_pb_line_break_holder] --> top: 45%;<!-- [et_pb_line_break_holder] -->}<!-- [et_pb_line_break_holder] --><!-- [et_pb_line_break_holder] -->.image-hover-layout.show-title .et_pb_column:hover .et_pb_blurb_container {<!-- [et_pb_line_break_holder] --> opacity: 1;<!-- [et_pb_line_break_holder] --> top: 40%;<!-- [et_pb_line_break_holder] -->}<!-- [et_pb_line_break_holder] --><!-- [et_pb_line_break_holder] -->.image-hover-layout.show-title .et_pb_blurb_container p {<!-- [et_pb_line_break_holder] --> opacity: 0;<!-- [et_pb_line_break_holder] -->}<!-- [et_pb_line_break_holder] --><!-- [et_pb_line_break_holder] -->.image-hover-layout.show-title .et_pb_column:hover .et_pb_blurb_container p {<!-- [et_pb_line_break_holder] --> opacity: 1;<!-- [et_pb_line_break_holder] -->}<!-- [et_pb_line_break_holder] --><!-- [et_pb_line_break_holder] -->.image-hover-gallery-layout .et_pb_gallery_item {<!-- [et_pb_line_break_holder] --> overflow: hidden;<!-- [et_pb_line_break_holder] --> position: relative;<!-- [et_pb_line_break_holder] -->}<!-- [et_pb_line_break_holder] --><!-- [et_pb_line_break_holder] -->.image-hover-gallery-layout .et_pb_gallery_item img {<!-- [et_pb_line_break_holder] --> -webkit-transition: all 0.5s ease-in-out;<!-- [et_pb_line_break_holder] --> -moz-transition: all 0.5s ease-in-out;<!-- [et_pb_line_break_holder] --> transition: all 0.5s ease-in-out;<!-- [et_pb_line_break_holder] --> display: block;<!-- [et_pb_line_break_holder] -->}<!-- [et_pb_line_break_holder] --><!-- [et_pb_line_break_holder] -->.image-hover-gallery-layout .et_pb_gallery_item:hover img {<!-- [et_pb_line_break_holder] --> transform: scale(1.1);<!-- [et_pb_line_break_holder] -->}<!-- [et_pb_line_break_holder] --><!-- [et_pb_line_break_holder] -->.image-hover-gallery-layout .et_pb_gallery_item .et_pb_gallery_image:before {<!-- [et_pb_line_break_holder] --> top: 50px;<!-- [et_pb_line_break_holder] --> right: 30px;<!-- [et_pb_line_break_holder] --> bottom: 50px;<!-- [et_pb_line_break_holder] --> left: 30px;<!-- [et_pb_line_break_holder] --> -webkit-transform: scale(0, 1);<!-- [et_pb_line_break_holder] --> transform: scale(0, 1);<!-- [et_pb_line_break_holder] --> -webkit-transform-origin: 0 0;<!-- [et_pb_line_break_holder] --> transform-origin: 0 0;<!-- [et_pb_line_break_holder] --> position: absolute;<!-- [et_pb_line_break_holder] --> content: '';<!-- [et_pb_line_break_holder] --> opacity: 0;<!-- [et_pb_line_break_holder] --> -webkit-transition: opacity 0.35s, -webkit-transform 0.35s;<!-- [et_pb_line_break_holder] --> transition: opacity 0.35s, transform 0.35s;<!-- [et_pb_line_break_holder] --> z-index: 4;<!-- [et_pb_line_break_holder] --> pointer-events: none;<!-- [et_pb_line_break_holder] -->}<!-- [et_pb_line_break_holder] --><!-- [et_pb_line_break_holder] -->.image-hover-gallery-layout .et_pb_gallery_item .et_pb_gallery_image:after {<!-- [et_pb_line_break_holder] --> top: 30px;<!-- [et_pb_line_break_holder] --> right: 50px;<!-- [et_pb_line_break_holder] --> bottom: 30px;<!-- [et_pb_line_break_holder] --> left: 50px;<!-- [et_pb_line_break_holder] --> -webkit-transform: scale(1, 0);<!-- [et_pb_line_break_holder] --> transform: scale(1, 0);<!-- [et_pb_line_break_holder] --> -webkit-transform-origin: 100% 0;<!-- [et_pb_line_break_holder] --> transform-origin: 100% 0;<!-- [et_pb_line_break_holder] --> position: absolute;<!-- [et_pb_line_break_holder] --> content: '';<!-- [et_pb_line_break_holder] --> opacity: 0;<!-- [et_pb_line_break_holder] --> -webkit-transition: opacity 0.35s, -webkit-transform 0.35s;<!-- [et_pb_line_break_holder] --> transition: opacity 0.35s, transform 0.35s;<!-- [et_pb_line_break_holder] --> pointer-events: none;<!-- [et_pb_line_break_holder] --> z-index: 4;<!-- [et_pb_line_break_holder] -->}<!-- [et_pb_line_break_holder] --><!-- [et_pb_line_break_holder] -->.image-hover-gallery-layout .et_pb_gallery_item:hover .et_pb_gallery_image:before, .image-hover-gallery-layout .et_pb_gallery_item:hover .et_pb_gallery_image:after {<!-- [et_pb_line_break_holder] --> -webkit-transition-delay: 0.15s;<!-- [et_pb_line_break_holder] --> transition-delay: 0.15s;<!-- [et_pb_line_break_holder] --> opacity: 1;<!-- [et_pb_line_break_holder] --> -webkit-transform: scale(1);<!-- [et_pb_line_break_holder] --> transform: scale(1);<!-- [et_pb_line_break_holder] -->}<!-- [et_pb_line_break_holder] --><!-- [et_pb_line_break_holder] -->.image-hover-gallery-layout .et_pb_gallery_item .et_pb_gallery_title, .image-hover-gallery-layout .et_pb_gallery_item .et_pb_gallery_caption {<!-- [et_pb_line_break_holder] --> opacity: 0;<!-- [et_pb_line_break_holder] --> color: #fff;<!-- [et_pb_line_break_holder] --> position: absolute;<!-- [et_pb_line_break_holder] --> top: 40%;<!-- [et_pb_line_break_holder] --> width: 100%;<!-- [et_pb_line_break_holder] --> text-align: center;<!-- [et_pb_line_break_holder] --> -webkit-transition: all 0.5s ease-in-out;<!-- [et_pb_line_break_holder] --> -moz-transition: all 0.5s ease-in-out;<!-- [et_pb_line_break_holder] --> transition: all 0.5s ease-in-out;<!-- [et_pb_line_break_holder] --> margin: 0;<!-- [et_pb_line_break_holder] --> padding: 0 55px;<!-- [et_pb_line_break_holder] --> pointer-events: none;<!-- [et_pb_line_break_holder] --> line-height: 1em !important;<!-- [et_pb_line_break_holder] --> z-index: 3;<!-- [et_pb_line_break_holder] -->}<!-- [et_pb_line_break_holder] --><!-- [et_pb_line_break_holder] -->.image-hover-gallery-layout .et_pb_gallery_item:hover .et_pb_gallery_title {<!-- [et_pb_line_break_holder] --> opacity: 1;<!-- [et_pb_line_break_holder] --> position: absolute;<!-- [et_pb_line_break_holder] --> top: 45%;<!-- [et_pb_line_break_holder] --> width: 100%;<!-- [et_pb_line_break_holder] --> text-align: center;<!-- [et_pb_line_break_holder] --> color: #fff;<!-- [et_pb_line_break_holder] --> line-height: 1em !important;<!-- [et_pb_line_break_holder] -->}<!-- [et_pb_line_break_holder] --><!-- [et_pb_line_break_holder] -->.image-hover-gallery-layout .et_pb_gallery_item:hover .et_pb_gallery_caption {<!-- [et_pb_line_break_holder] --> opacity: 1;<!-- [et_pb_line_break_holder] --> position: absolute;<!-- [et_pb_line_break_holder] --> top: 55%;<!-- [et_pb_line_break_holder] --> width: 100%;<!-- [et_pb_line_break_holder] --> text-align: center;<!-- [et_pb_line_break_holder] --> color: #fff;<!-- [et_pb_line_break_holder] --> line-height: 1em !important;<!-- [et_pb_line_break_holder] -->}<!-- [et_pb_line_break_holder] --><!-- [et_pb_line_break_holder] -->.image-hover-gallery-layout.show-title .et_pb_gallery_title, .image-hover-gallery-layout.show-title .et_pb_gallery_item:hover .et_pb_gallery_title {<!-- [et_pb_line_break_holder] --> background: #fff;<!-- [et_pb_line_break_holder] --> padding: 10px !important;<!-- [et_pb_line_break_holder] --> margin: 0 auto;<!-- [et_pb_line_break_holder] --> color: #333 !important;<!-- [et_pb_line_break_holder] --> opacity: 1;<!-- [et_pb_line_break_holder] --> left: 55px;<!-- [et_pb_line_break_holder] --> right: 55px;<!-- [et_pb_line_break_holder] --> width: initial;<!-- [et_pb_line_break_holder] -->}<!-- [et_pb_line_break_holder] --><!-- [et_pb_line_break_holder] -->.image-hover-gallery-layout.show-title .et_pb_gallery_item:hover .et_pb_gallery_title {<!-- [et_pb_line_break_holder] --> top: 35%;<!-- [et_pb_line_break_holder] -->}<!-- [et_pb_line_break_holder] --></style>